Anyone following my blog knows how much I love Galapagos: it is my home and my whole life is immersed in its culture. As a naturalist and guide for the Galapagos National Park Service, I am dedicated to preservation of our wonderful environment and to conserving our biodiversity and ecosystem. An important aspect of this is preservation, reuse and recycling of our natural resources. That's why I was really impressed to learn about how our local artists and artisans have started a trend and new movement to incorporate local recyclable materials into their final works of art.
I was a bit surprised, however, to learn that it was not a Galapagos native, but a Ugandan paper beadmaker who is at the forefront of this movement. In 2011, Sarah Akot visited the Galapagos Islands and left a creative legacy for local craftspeople.
As you might imagine, if you walk into a shop in Puerto Ayora, you will find beautiful glassware, beaded necklaces and earrings made by local artisans. But, what will probably surprise you is that all of it is fashioned from mounds of recycled paper and glass, collected from islanders and tourists alike.
And, this movement is thanks to Lindblad Expeditions and the Lindabad National Geographic Artisan Fund. As a highly-regarded and long-time Galapagos travel partner, Lindblad was well aware of the continuing problem we have on the islands with trash removal and recycling. After all, we are 600 miles from the mainland and our primary industry is tourism, meaning people using our resources and the waste products having no where to go. We have mandated recycling programs, of course, but sometimes that just isn't enough.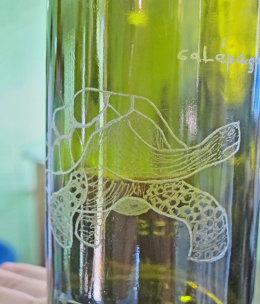 Historically, local artisans and craftspeople turned to mainland Ecuador for their tools and materials. That was expensive and didn't help our local environment or economy at all.

That's where the recycling project came in. Lindblad teamed with Paper to Pearls, a microenterprise project for disadvantaged women, and brought Sarah Akot, a Ugandan paper beadmaker, to the Galapagos. As the head of a women's beading cooperative in a refugee camp, Akot had never left northern Uganda, much less traipsed across the seas to a chain of volcanic islands straddling the Equator. After she arrived, she called a friend to report that the ocean was not only bigger than Uganda, but Africa, too.
Once she arrived here, Akot went to work teaching the art of paper beadmaking and jewelry assembly to our local community artists. Although the charismatic Ugandan teacher spoke English, most of her students didn't. So training manuals were created in Spanish. The Artisan Fund also provided bundles of paper--calendars, magazines, posters from Lindblad's fleet of ships--for rolling the beads. Using paper, scissors, rulers and glue, Akot showed them how to turn the beads into an item of high-quality jewelry. By the end of the workshop, the students had a piece of handmade jewelry to take home. But more than that, they'd experienced a cross-cultural exchange spanning art, conservation, and commerce. On Akot's last day, the students gave her gifts, and she danced to a CD of traditional northern Ugandan music.
They never saw their mentor again. In early 2013, Akot died of unknown causes in a hospital in Uganda. Yet, her legacy in Galapagos lives on. You can find recycled paper jewelry in nearly 60% of the shops on Santa Cruz and Isabela. More than a dozen local women are making an income selling their jewelry, including at two galleries devoted to recycled handcrafts and art on Lindblad's ships. Last year the Endeavor, Islander and the Explorer generated $16,000 in sales of paper jewelry from travelers--a percentage of which is recycled into the Artisan Fund for artists.
Sara Fiallos. Photo by Mona Gable
The recycling project has also grown. Last year, renowned Hudson Valley glassblower John Gilvey taught islanders how to make objects using recycled glass, and New York artist Jennifer Rutheny did a series of metal jewelry workshops in the Galapagos. This is a photo of Sara Fiallos who is a premier artist now. Once she chooses the design and the colors, she rolls the cut paper triangles into beads, slathers them with varnish, and then hangs the jewelry on a wooden rod outside to dry.